Are you tired of struggling with your old blender? Are you looking for a kitchen appliance that can handle all your blending, chopping, and mixing needs? Look no further! In this comprehensive review, we delve into the world of Ninja blenders and bring you an in-depth analysis of the highly acclaimed Ninja Mega Kitchen Blender. From its rich history to its versatile features, we leave no stone unturned in providing you with all the essential information you need to make an informed purchasing decision.
A Brief History of Ninja Blenders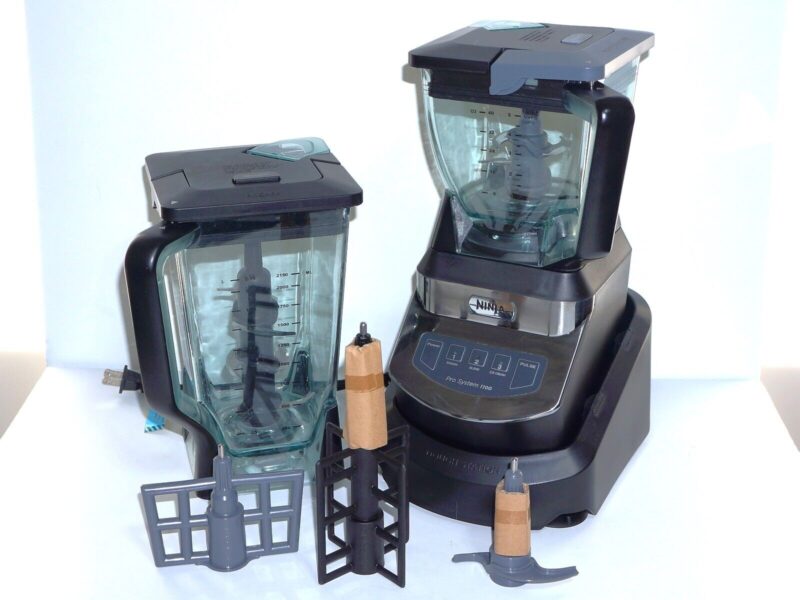 The Ninja Blender is a versatile and powerful kitchen appliance that has revolutionized the blending industry. Its origins can be traced back to the late 2000s when the SharkNinja company introduced their innovative blending technology to the market. It quickly gained popularity due to its exceptional performance and unique features.
The early models focused on providing high-speed blending capabilities with sharp, durable blades that could effortlessly crush ice and blend ingredients to perfection. Over time, the brand expanded its product line to include various models, each catering to specific blending needs.
As technology advanced, so did the Ninja Blender. The brand incorporated smart features, such as programmable settings, touchscreens, and Bluetooth connectivity, enabling users to create customized recipes and control their blenders with ease.
Today, Ninja Blenders continue to be a staple in countless kitchens worldwide, offering efficiency, versatility, and durability.
Unboxing and Design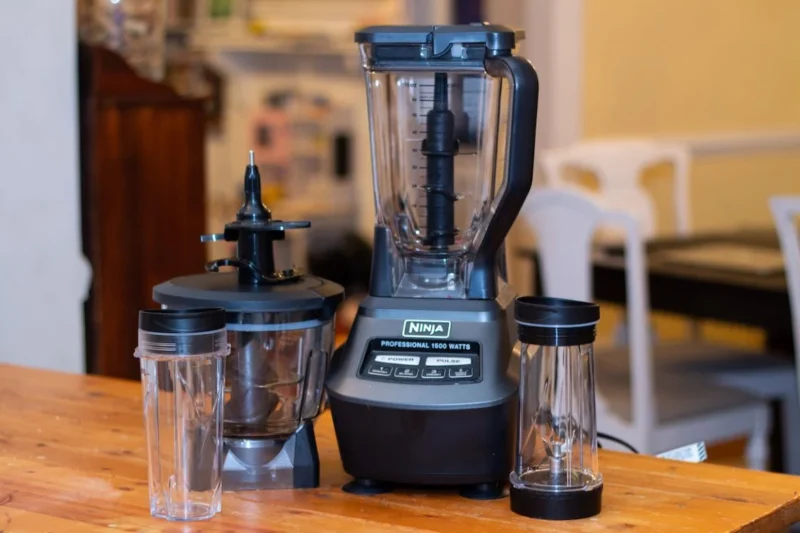 The design of the Ninja Mega Kitchen Blender is modern and well-built, with a silver or black finish that complements any kitchen décor. The base unit features a control panel with clearly labeled buttons, making it easy to operate. It also has suction cups at the bottom to ensure stability during use.
The blender comes with a large 72-ounce blending pitcher, which is ideal for making large batches of smoothies or soups. It includes a 64-ounce food processing bowl with a chopping blade and a dough blade for tackling food preparation tasks. The package also contains two 16-ounce Nutri Ninja cups with to-go lids, perfect for single-serving smoothies on the go.
The assembly is straightforward, with attachments easily fitting onto the base unit. The blender pitcher and food processing bowl lock securely into place, ensuring safety during operation. The blades are sharp and made from durable materials, guaranteeing efficient blending and processing.
Ninja Mega Kitchen Blender's Power and Performance
The Ninja Mega Kitchen Blender is renowned for its exceptional power and performance. With a robust motor and sharp blades, it effortlessly pulverizes and blends ingredients to create smooth and consistent results. Whether you're crushing ice, blending fruits and vegetables, or grinding nuts, the Ninja Mega tackles it all with ease.
Its powerful motor ensures efficient blending, even when dealing with tough ingredients. The blender's multiple speed settings and pulse function offer precise control, allowing you to achieve the desired texture for your recipes. The Ninja Mega's impressive power and performance make it a reliable and versatile kitchen companion for both everyday use and more demanding culinary tasks.
Built to Last
The Ninja Mega Kitchen Blender is known for its durability and long-lasting performance. Constructed with high-quality materials, this blender is built to withstand regular use and tough blending tasks.
The robust motor and sturdy blades are designed to handle even the toughest ingredients without compromising performance. The blender's components, including the pitcher, food processing bowl, and blades, are made to withstand repeated use and are resistant to wear and tear.
Users can expect the Ninja Mega Kitchen Blender to be a reliable and durable kitchen appliance that will continue to deliver exceptional blending results for years to come.
Key Feature: Auto-iQ Technology
One of the standout features is its Auto-iQ Technology. This innovative technology takes the guesswork out of blending by providing intelligent and automatic blending programs. Auto-iQ Technology consists of pre-programmed settings that deliver optimized blending patterns and speeds for specific recipes.
With the touch of a button, you can select from a variety of Auto-iQ programs tailored for tasks like smoothies, purees, frozen drinks, and more. The blender intelligently controls the blending duration and speed, ensuring consistent and precise results every time. This feature eliminates the need for manual adjustments and saves you time and effort in the kitchen.
Additionally, the Ninja Mega's Auto-iQ Technology includes timed pulsing and pausing functions. This allows for thorough blending and mixing of ingredients, resulting in smooth and well-incorporated recipes. The pulsing action helps break down tough ingredients and prevents over-processing.
Cleaning and Maintenance
Cleaning and maintaining the Ninja Mega Kitchen Blender is a straightforward process that ensures its longevity and performance. The blender's detachable parts, including the blending pitcher, food processing bowl, blades, and lids, are all dishwasher safe, making cleanup a breeze. Simply disassemble the components and place them in the dishwasher for a thorough and convenient cleaning.
For those who prefer handwashing, warm soapy water and a non-abrasive sponge or brush are sufficient for cleaning the parts. Be sure to remove any food residue or buildup from the blades, as well as the pitcher and bowl's interior.
To maintain the blender's performance, it is essential to regularly inspect and clean the base unit. Wipe it down with a damp cloth to remove any spills or splatters. Avoid immersing the base unit in water or any other liquid.
It is also recommended to periodically check and tighten the blade assembly. This ensures proper operation and prevents leaks or accidents during blending.
Conclusion
The Ninja Mega Kitchen Blender stands as a testament to Ninja's commitment to innovation and exceptional performance. With its rich history in the blending industry, this blender has become a top choice for home cooks and professionals alike. From its powerful motor to its versatile functions and user-friendly design, it truly encompasses all the qualities needed for a reliable kitchen companion.
Whether you're a health-conscious smoothie enthusiast or a culinary adventurer looking to experiment with various recipes, the Ninja Mega Kitchen Blender delivers on its promises. With Auto-iQ technology and a multitude of attachments, you can achieve consistent results and expand your culinary horizons.