From the enticing smells that drift through clamoring road markets to the comfortable solaces of home-prepared feasts, few things unite individuals like the delight of food. With every locale and culture flaunting its extraordinary culinary joys, it's an experience for the taste buds to explore the tremendous universe of flavors. In this gastronomic excursion, one humble vegetable has risen above borders, tempting palates in endless ways: the mighty potato.
With its unassuming appearance, a potato has acquired worldwide distinction as a flexible and beloved ingredient. It holds an exceptional place in the hearts of food lovers for its ability to transform into a bunch of delicious dishes.
In this blog, we embark on a wonderful endeavor into potato dishes.
Mashed Potatoes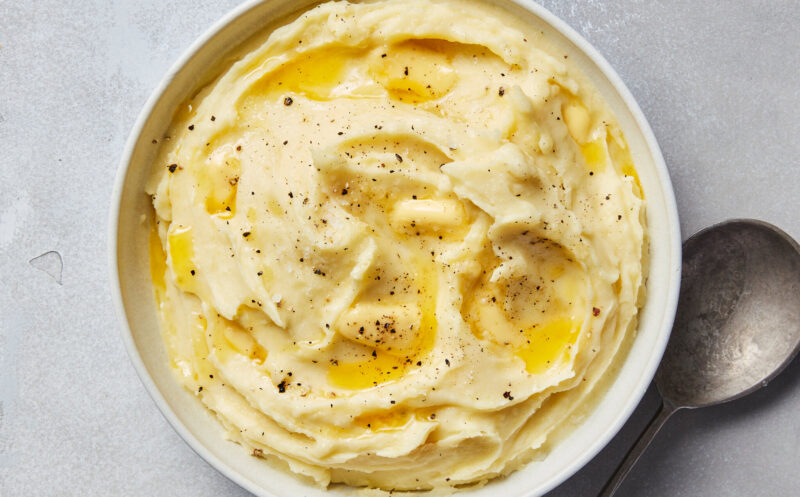 You should taste mashed potatoes, a conventional but delicious potato dish. They are the ideal side dish for many mains since they are smooth and rich. Here is a straightforward recipe:
Ingredients:
2 pounds (about 900g) russet or Yukon Gold potatoes
1/2 cup (1 stick or 113g) unsalted butter, softened
1/2 to 1 cup (120ml to 240ml) whole milk or heavy cream (adjust for desired consistency)
Salt, to taste
Pepper, to taste
Instructions:
Peel, cut, and rinse the potatoes to remove starch before cooking.
In a large pot, boil potato chunks in salted water until tender (15-20 minutes).
After cooking, drain potatoes in a colander and let sit briefly to remove excess water.
Return cooked potatoes to the pot. Mash with a potato masher or ricer until smooth.
Gradually add milk or cream while mashing until desired creaminess is achieved.
Season the mashed potatoes with salt and pepper to taste.
Bonus Dish: Creamy Potato Soup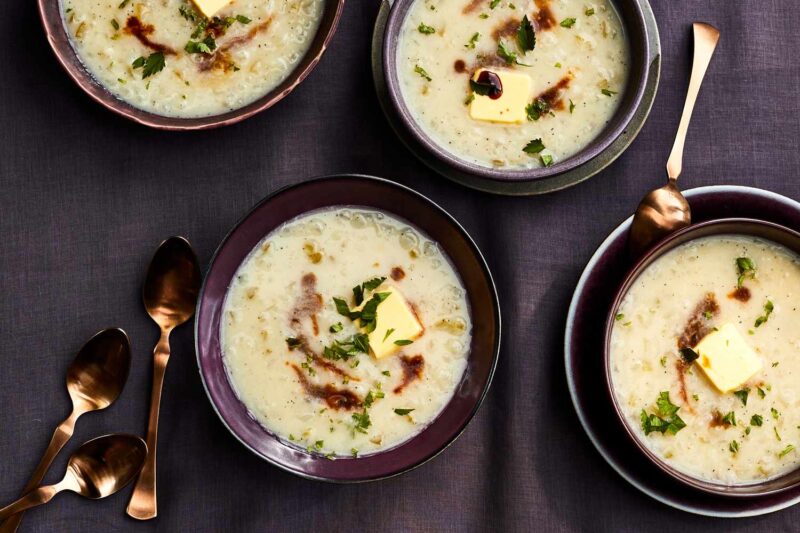 This creamy potato soup is a must-try if you enjoy veggie soups! Enjoy this soup's rich flavors, silky texture, and cozy warmth. You can also check out lecremedelacrumb.com's potato soup recipe to learn how to make a genuinely decadent and filling bowl of deliciousness that will leave you wanting more.
Potato Gnocchi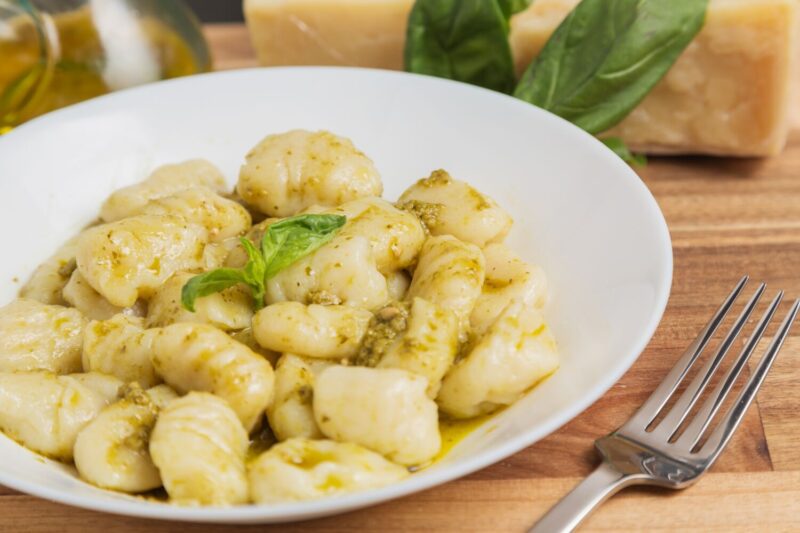 Italian dumplings, known as gnocchi, comprise potatoes, flour, and a little magic. These adorable tiny pillows of bliss are unlike any other comfort food. You must try this easy and delectable recipe for homemade potato gnocchi:
Ingredients:
Two large russet potatoes (about 1 pound or 450g), baked or boiled until tender
1 cup all-purpose flour (plus extra for dusting)
1/2 teaspoon salt
One large egg, lightly beaten
Instructions:
Once the potatoes are cooked and warm, peel off the skin and mash them thoroughly in a large mixing bowl until there are no lumps.
Add the salt and about half of the flour to the mashed potatoes. Mix well using your hands or a fork.
Add the beaten egg to the potato mixture and continue to mix until it forms a soft dough. Be careful not to overmix; you want the dough combined.
Sprinkle flour, knead gently, adding more flour if needed, until smooth and non-sticky.
Divide the dough into smaller portions and roll each into a long rope about 1/2 inch (1.3 cm) thick.
Use a knife to cut the ropes into small pieces about 1 inch (2.5 cm) long. Optionally, you can press the gnocchi with a fork or a gnocchi board to create ridges, which will help the sauce cling to the gnocchi.
Boil salted water in a large pot. Add the gnocchi in batches in the water so that you don't overcrowd the pot.
Once the gnocchi floats to the surface (it usually takes about 2-3 minutes), let them cook for 30 seconds, then remove them with a slotted spoon and transfer them to a plate.
Serve the gnocchi with your favorite sauce and sprinkle grated Parmesan cheese over the top if desired. Enjoy!
Potato Dauphinoise/Gratin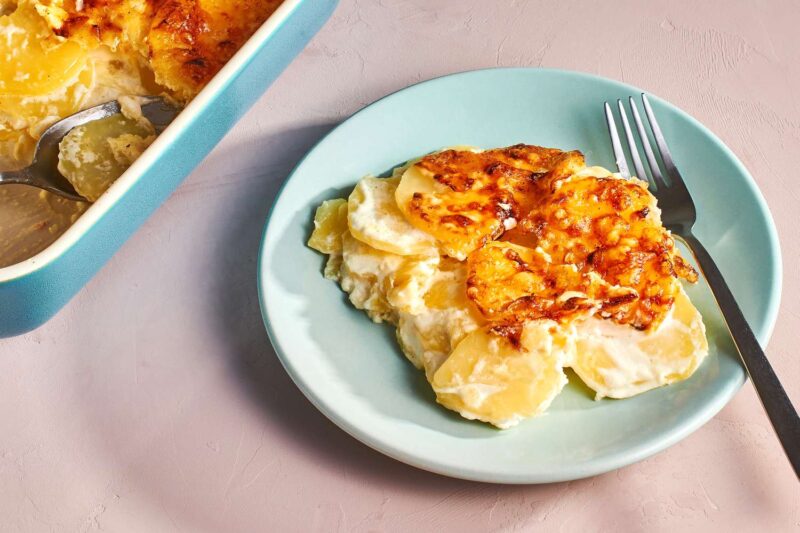 A delicious French meal called Potato Dauphinoise sometimes referred to as Potato Gratin, is made of thinly sliced potatoes cooked in a thick, creamy sauce with cheese and garlic. Here is a simple dish you may make at home:
Ingredients:
2 lbs (about 1 kg) potatoes (preferably russet or Yukon Gold), peeled and thinly sliced
1 1/2 cups heavy cream
1 cup milk
Two garlic cloves minced
1 1/2 cups grated Gruyere cheese (you can also use Emmental, Cheddar, or any other melting cheese of your choice)
Salt and pepper to taste
A pinch of ground nutmeg (optional but adds a nice flavor)
Instructions:
Set the oven's temperature to 375°F (190°C). To avoid sticking, grease a baking dish (about 9×13 inches) with butter or cooking spray.
In a saucepan, combine milk, heavy cream, nutmeg (if using), and chopped garlic. Stirring periodically, heat on medium-low until almost simmering. Prevent boiling.
Slightly overlap half of the potato slices as you arrange them in the oiled baking dish.
Evenly cover the potatoes with the remaining half of the heated cream mixture.
Top the potatoes and cream with half of the cheese that has been shredded.
Arrange the remaining potato slices, the cream mixture, and the grated cheese in another layer.
Cover the baking dish with aluminum foil, ensuring the foil is securely covered to keep the steam within.
For 40 minutes, bake potato gratin in a preheated oven. Remove the foil, and bake the potatoes for 20 to 25 minutes or until soft.
After cooking, take the gratin out of the oven and let it sit for a while before serving to let the flavors mingle.
Conclusion
The universe of potato dishes is wonderfully varied and delicious, offering something for each palate. From the savory seduction of potato latkes, the warm embrace of mashed potatoes, luscious potato soup, and the exotic charm of potato dauphinoise/gratin, there is no lack of heavenly choices to explore.
If you're a foodie looking for new culinary adventures or delightful and fulfilling dinners, you must try these potato dishes. So, get your apron, go to the kitchen, and set out on a gastronomic excursion loaded with the vast possibilities of the humble yet flexible potato! Also, don't be afraid to mix things to suit your palette.